Register at the M.A.I. and take advantage of our PO box services
You are an international association and wish to have a registered address in Brussels?
The M.A.I. offers the following services:
Possibility of remote mail management
Rental of a suitable letterbox
Advantageous conditions
Having a postal address at the Maison des Associations Internationales also means enjoying many advantages:
Discounts on the rental of meeting rooms located in the same building (equipped with translation booths, videoconferencing / live streaming system)
A location near Avenue Louise
An experienced team that advises you on administrative procedures
TO OBTAIN A POSTAL ADDRESS
How to get a registered address at the Maison des Associations Internationales?
You must first be a member of the FAIB, the Federation of International Associations established in Belgium. This institution ensures that each organization wishing to register is effectively an international non-profit organization or an association in the non-profit sector.
You are not yet a member?
The membership fee amounts to 360€ /year and allows you to benefit from the valuable expertise of the FAIB in areas related to various administrative procedures, Belgian taxation, VAT, EU rules and others. For more information please contact the FAIB Secretariat at faib@faib.org or + 32 (0)2 641 11 95.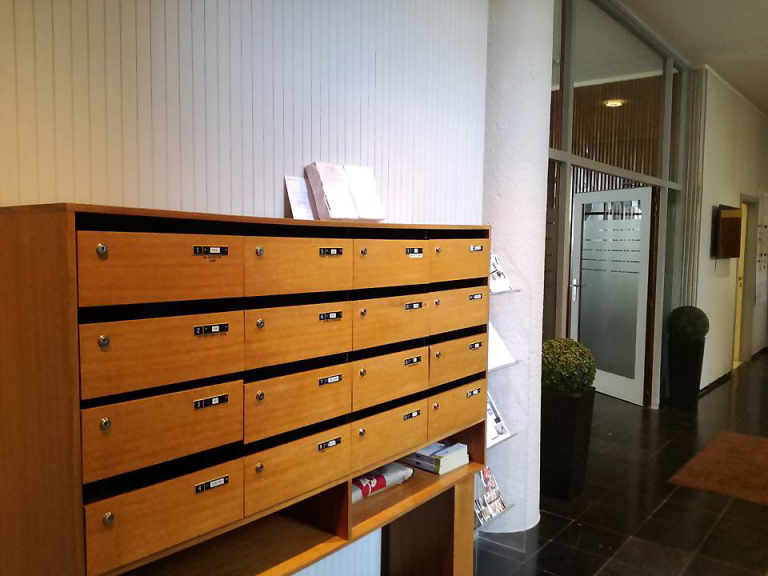 Prices
according to the desired formula
Locked letterbox
35 € / month excluded VAT (21 % TVA)
Open pigeon-hole letterbox
25 € / month excluding VAT (21% VAT))
Postal shipment
20 € / shipment excluding VAT (21% VAT)
Associations registered at the M.A.I.
• Accessa
• Access Agriculture
• ADEG – Association Déontologique Européenne des Graphologues
• ADHD Europe – Attention-Deficit/Hyperactivity Disorder
• ADHD, ASC LD Belgium
• AEA – European Association of Hearing Aid Professionals
•AEIT – Association Européenne d'Informatique Théorique
• AHILA
• AIA
• AITA – Association Internationale du Théâtre Amateur
• Alliance for Pulmonary Hypertension
• All rail
• AMICUS
• BDJV- Belgisch Deutsche Juristenvereinigung
• CIICA
• CIVIC – Center for civilians in conflict
• CODEFA- Concept pour le Développement du Football Africain
• CGDEV Europe – Center for Global Developement
• CUS – Comité Universitaire de Solidarité
• EEMA – The European Association for Identity & Security
• EACHA – European Automated Clearing House Association
• ERAB – European Foundation for Alcohol Research
• ECTS – European Calcified Tissue Society
• EICF – European Investment Casters Federation
• EFGCP – European Forum for Good Clinical Practice
• ELIA – European Language Industry Association
• ENAEE – European Network Accreditation of Engineering Education
• EREN – European Roma Equality Network
• EFFFF – European Fantastic Film Festivals Federation
• EFA – European Fintech Association
• EURODIP – European Hotel Schools in Europe
• European Logistics Platforms Association
• Eurolux – European Group for Rooflights and Smoke-ventilation
• EuropAtlas
• EuroPlatforms
• FAIB – Federation of European and International Associations established in Belgium
• FEFB
• Global Network Company
• Human Innovation Hub
• ICLAS – International Council for Laboratory Animal Science
• IEA – International Association for the Evaluation of Educational Achievement
• IEAI – Irish in Europe Association
• IIRB – International Institute of Beet Research
• ILA – International Light Association
• INITIATIVE 89
• IREG – Observatory on Academic Ranking and Excellence
• KIND – Kids In Need of Defense
• OPENEdTech AISBL
• OpenStreet asbl
• Orange Ensemble
• PACE – Parti des Citoyens Européens
• ParadigMS private foundation
• PHAP
• QUISPER – Quality Information Services for Personalised Expert Recommendations
• The Refugee Hub
• REIN – Réseau Européen pour l'Insertion Sociale et professionnelle des Personnes défavorisées
• SAFE – Stroke Alliance for Europe
• The swimming team of the European school octopus
• UETR – European Road Haulers Association
• Université Senghor d'Alexandrie
• VAC4EU – Vaccine Monitoring Collaboration for Europe
• WVA
• WIFCC